Liam Gilbey
The Animation that shaped us!
Updated: Dec 14, 2022
Today we're taking a quick break from our work to write a little about our favourite animated films, shows or shorts, and how they inspired us. Either as kids, teens, students or animators, everything we watch is an opportunity for learning, and has an effect on how we create. Take a look at four films we've hand-picked to talk about today!
Liam - "Wallace and Gromit: The Wrong Trousers"
An early love of mine, Claymation is how I got into the world of animation like so many other young people. I've always loved how animation can tell a story so perfectly without dialogue, so this film having a silent hero and villain is a clear influence here. I love British film, I love humour and heart, and I love a film that doesn't feel the need to adhere to a traditional movie or TV runtime. With the best stop motion maybe ever and a cracking soundtrack, The Wrong Trousers is not only everything a sequel should be, but a practically flawless film that never wastes a second of your time. I've never been so scared of a penguin before.
Honourable Mentions - Up, Wall-E, Kubo and the Two Strings, Dumbo, The Iron Giant.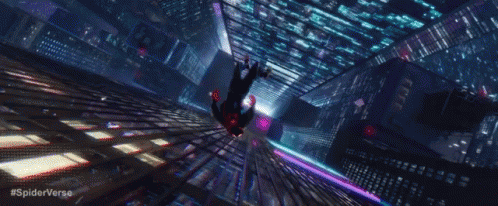 Amy - "Spider Man: Into the Spider Verse"
As an existing fan of Spider-Man, it doesn't take much to get me excited about the character(s) themselves and with 'Into the Spider-Verse' coming out with such a drastically different plot and character set up, I was immediately on board. On top of this, having an animated film, in mainstream media, that stands out in terms of looks is even more special to me.
Being a visual person, Spider-Verse affected how I view colour in animation. For a period of time, when designing an animation style I would do so in a fairly technical and methodical manner resulting in relatively flat pieces of work. Doing so to ensure that I could animate in a way that would continue to look good when moving. Spider-Verse pushed me to use colours I would avoid; furthermore, I started experimenting with more texture.
From an animation stand point, it really made me reconsider how/when I use smear frames and how to use colour to impact the narrative .Every time the spider-senses activate is such an ingenious decision to me that it really blew my mind upon first watch. Whilst it might not seem like a massive choice to have been made, it influenced the tone of these scenes in such an incredible way.
I ended up watching it about 4 times in the cinema, each time I left in awe. The level of detail to the style and methods used gripped me every time. I re-watch it every few months as a source of great comfort now.
Honourable Mentions - Bleach, Girl Who Leapt Through Time, HunterXHunter
El - "My Neighbour Totoro"
It must have been one Christmas Eve when I was about 11 years old. Film 4 had moved on from The Muppets Christmas Carol and no one had changed the channel over, with the knowledge that we'd be heading out for Christmas celebrations 20 minutes later. This was my first introduction to My Neighbour Totoro, as well as Studio Ghibli. From those 20 minutes of watching it I was encapsulated by its calming aura and gentleness. Cliché, but the rest was history.
I think it stood out for me because it dismisses conventional narrative structures and uses the art form of animation to form a plot defined by its visual beauty and themes of nature and family. The film is warm and light-hearted. It's warmth is based on experience, situation and exploration — not on conflict and threat. Everything about this film inspires me, and I continue to rewatch it no matter what mood I'm in.
Honourable Mentions - The Simpsons, Bojack Horseman, Bagpuss, The Moomins
Finn - "Panique au Village"
Panique au Village is where it all began for me. My aunt pulled an episode up on YouTube one day and my world changed. I wasn't sure what I'd just seen, but it unfolded very fast, using a collection of hand painted figurines, in French.
While I had grown up watching the work of the greats (see honourable mentions), only the slapstick, fever dream adventures of Cowboy, Indian and Cheval can actually take the credit for starting my animation journey. It taught me everything I needed to know to get started. You don't need beautiful characters. You don't need perfect mise-en-scene. You don't need stunning visual effects. The only prep you appeared to need was to get your old toy-box out and let your imagination do the rest. The very unconcealed, crude, practical effects made everything look so doable to a twelve year old me, although, I must admit, my work has yet to catch up on the creator's genius.
Discovering Panique au Village led to many happy hours with toys not so long ago put away at that age and giving them new life using a 360p webcam and the trial version of Animator DV Simple. Good times.
Honourable Mentions - Porco Rosso, Pogles' Wood, The Iron Giant